Breeding isn't always
black & white
IT'S A SHADE OF GRAY!
Sired by a Gray
& out of a
Blue Roan Sabiano mare,
this rare combination
only means one thing...
COLOR!
His first foals hit the ground in
March 2002!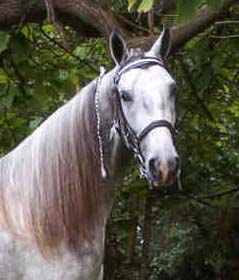 - Lite Shod Dappled Gray Stallion -
- Smooth riding 29 inch overstride -
Shakes right down to his shoulder
and he's only a trail horse.


Important Blood Factor Groups:
A> -/- Q> c
This blood type is ideal to breed to ANY mare and totally avoid the risk of Neonatal Isoerythrolysis (N.I.)